Eyebeam fellow Nova Jiang, along with artist Jacob Tonski, recently hosted the first in a series of workshop events intended to motivate (and expedite) the creative process, condensing the period of creation that would under most circumstances span a few months into just 10 hours. By distilling the creative process into a mechanized effort, the Creatomatic tries to demystify the process through which innovative ideas occur, and to some degree disassemble the myth of the creative artist, while simultaneously affirming the human capacity to adapt to changing circumstances and generate meaning from seemingly unrelated signs.
The workshops use customized software to randomly juxtapose drawings of two everyday objects. Participants were then challenged with the task of combining them in novel ways. In the initial phase of the workshop, the group brainstormed potential inventions together. Later, each participant was instructed to individually come up with as many ideas as possible under a variety of conditions. The Creatomatic methodology's chief function is to aid workshop participants in overcoming self-censorship. By requiring them to think within a particular framework—in this case, randomized dualities— participants were able to get creative quickly. The first 5 hours of the workshop were spent conceptualizing ideas -- both in the presence of artistic stimuli like pictures and music— and without them. The artists also led an animated discussion on the use of chance to forge new connections between previously unrelated ideas. Our discussion ranged from art historical examples such as Surrealist games to the cut-up technique and finally to our own techniques for generating new ideas. During the second 5-hour workshop, these ideas were put into the fabrication phase. 10 hours later, the proof was in the prototypes.
Supported with a generous grant from the Black Rock Arts Foundation.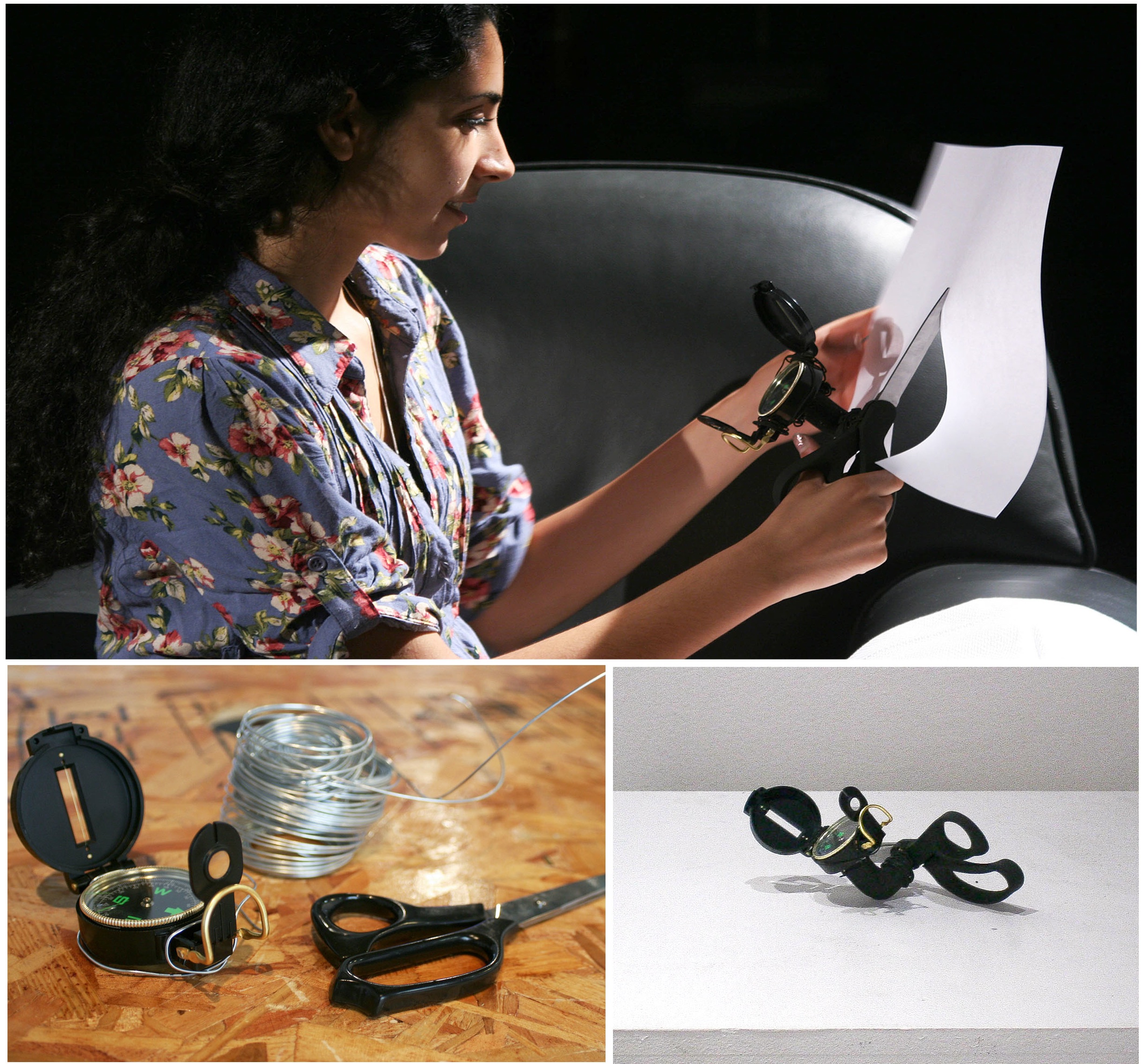 The scissors compass by Amritha Michelle allows you to cut along accurate directional routes. Photo credit:Phillip Retuta.