Art Hack Weekend: What We Made + Winners!
Excited to announce the end of a truly exciting Art Hack Weekend: Starting with a BBQ meet and greet, growing into a 2-day design and prototype party with 50 makers in attendance, and finishing with a grand celebration, project presentations, and awards.
Two winning projects were selected by a jury including Creators Project's Julia Kaganskiy (Global Editor), and Ciel Hunter (Creative Director), Eybeam's Amanda McDonald Crowley (Executive Director), MoMA's Kate Carmody (Curatorial Assistant, Department of Architecture & Design), and artists Taeyoon Choi (Eyebeam Fellow) and Rashaad Newsome (Eyebeam Alum).
Winners were granted a $2500 development stipend from The Creators Project and 8-weeks studio space at Eyebeam for teams to continue to collaborate and realize their their projects for The Creators Project NYC event this October.
Thanks to our collaborators, The Creators Project, who in addition to being great co-conspiritors wrote a great blog post about the weekend, and HUGE thanks to all the increble artists, designers and technologists who spent the weekend hacking with us.
Read on for descriptions of What We Made, and see some photos here.
WINNING PROJECTS:
Dis-Kinect
Ahmad Saeed, Ronald AngSiy, James Donovan, Mario Gonzalez, Jonathan Landau, Eric Stallwortth, Guojian Wu
Disconnect from reality. With people presenting identities on social networks, they try to "control" something that takes a life of its own. We symbolize that struggle with our DisKinect project. Users make movements in front of a Kinect system that then move a real life puppet. The users try to create music with their movements. After use though, it becomes a clash of controlling the puppet and the system to make the right music, while quickly realizing the futility of such process. It's captivating, intriguing, and awakening. http://diskinect.wordpress.com
Free Fall High Score
James George, Logan Best, Michael Zick Doherty, Helen Mair, Maria Mendez, Juan C. Müller, Caitlin Morris
Free Fall High Score is the first of a line of antagonistic mobile device apps. It encourages you to drop your device from high places in order to achieve the longest duration of free fall. The app records a video of the fall and uploads it to the global competition page. http://freefallhighscore.com
HONORABLE MENTIONS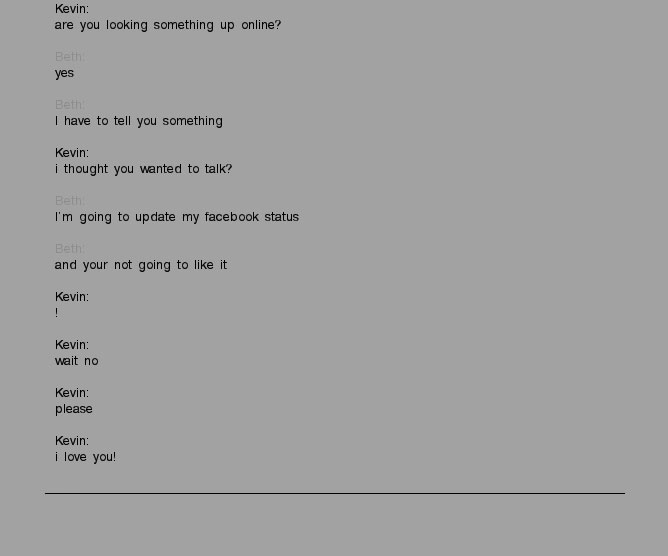 Can We Talk?
Zach Gage
Can We Talk? is a chat program for having serious conversations.
It seeks to eliminate some of the ambiguity that exists in normal text chatting programs. http://stfj.net
Casual Encounters: The Game
Kaho Abe, Jon Cohrs, Jeff Crouse, Amelia Marzec, Aaron Meyers
Casual Encounters: The Game is a game based on the Craigslist category of the same name. http://www.casualencountersgame.com
Globe
Matthew Conlen, Nova Jiang
Globe is a physical interface in the form of a world globe. This globe allows users to navigate to a certain part of the world and view real-time news headlines from that geographic region. By interacting with our project people may gain an better understanding of the intricacies of global politics.
send to receive
Crystal Butler, David Wolf, Jonathon Vingiano
Send to Receive is a continuously drawn work of digital art generated by a computer program. Viewers can interact with it through text messaging, and the program will use natural language processing to interpret the message and alter the piece accordingly. While the primary installation will be a gallery projection, it will also be viewable on the web and smart mobile devices, allowing users to alter it from any location with an internet connection and receive a texted response containing a link to a snapshot from the visual they create.
http://severe-earth-129.herokuapp.com/
OTHER GREAT PROJECTS!
BIL
Fred Ellman, LaTeisha Moore, Eva Neesemann, Margaret Plaisted
Imbuing dollars with an emotional value transcending the monetary, BIL encourages New Yorkers to slow down and reflect on the transient nature of currency, people, and time within the city. BIL is an iPhone app experience which uses image recognition and GPS technology to follow the movement of a single dollar. The bill's serial number works with a user's location to reveal a site-specific New York story, which becomes intertwined with its physical journey as well as richly layered with the multimedia memories it accumulates along the way.
Capitol Conquest
Jonathan Wohl, Andy Dayton
A physical video game interface for a battling, two-party U.S. Congress. It's fun for the whole country!
Cycles
Mark Stafford, Meredith Fitzgerald, Saaid Sabet, Narayanan Ramakrishnan
We are using electronic waste and active circuitry to describe the life cycle of our digital, virtual and physical environments by culling information from local (physical proximity) and global (by analyzing sentiments in tweets) sources
.
Git the diff
Zeeshan Lakhani, Russell de Moose
This app takes in two (for now) audio files recorded by the user, makes calls to a newly-created API, and creates an audio file representing the pitch differences between the two tracks. Way more to follow.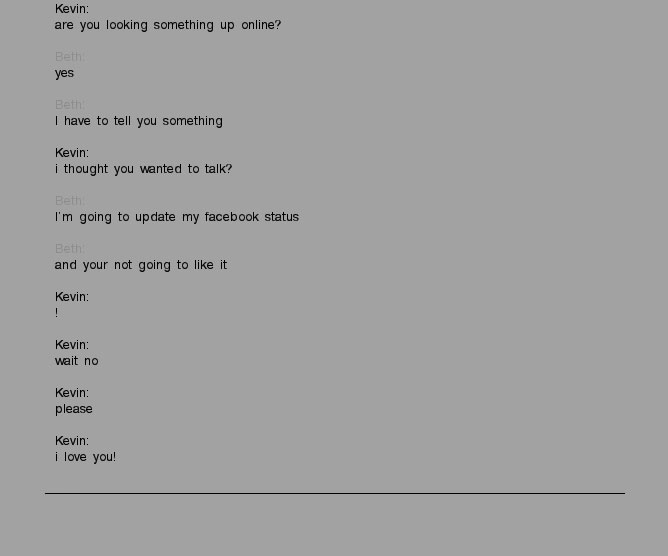 Hit Counter iOS
Zach Gage
Hit Counter iOS is a reimagining of my old Hit Counter project. It asks users to hang their iPad or iPhone on a wall in a frame, transforming their device into a physical installation object. It shares it's viewer counts with other users over the internet as well as keeping track of each users own viewer count, submitting these individual counts to Apple's GameCenter for users to compete on a 'Best Curator' high-score list. http://stfj.net
Lazer Badger Handball
Matt Parker, Jeff Howard, GJ Lee, Taraneh Fazeli
Have you ever wondered what would happen if the Wii got it on with the Kinect to make a motion sensing love child? Lazer Badger Handball, that's what. Try out this game of 3D handball with a little help from your friends on Facebook.
Spazzlerz
Danielle, Vincenzo, Jon
An interactive art installation and iphone application that allows users to interact with a set a character in their make believe environment. http://www.spazzlz.com
The Factory
Zack Freedman, Maria Michails, Olov Sundström
The Factory is a human-powered economy that conceptually positions human expenditure (labor) as the fundamental resource to the market. The project streams data of stock fluctuations which are then processed and linked to the rpm's being generated by the user. The data is seen on the monitor and then interpreted by a printer to create a two-dimensional visual on a calculator scroll paper.
Traces of Dance
Irena Romendik
iOS application that allows to create personal dance notations. User can draw over live video and app makes a snapshots of that activity. Things that are being recorded: time code, frames of original video, personal notations, next stage will be a player of all those records.
http://www.flickr.com/photos/voidit/sets/72157603868387968/
People: Amanda McDonald Crowely,
Rashaad Newsome
,
Taeyoon Choi
,
Jeff Crouse
,
Jon Cohrs
,
Kaho Abe
,
Nova Jiang
,
Maria Michails
,
Amelia Marzec
,
Aaron Meyers
Tags:
Art Hack Weekend
,
ss2011
,
summer school
,
The Creators Project