James Wagner on my new work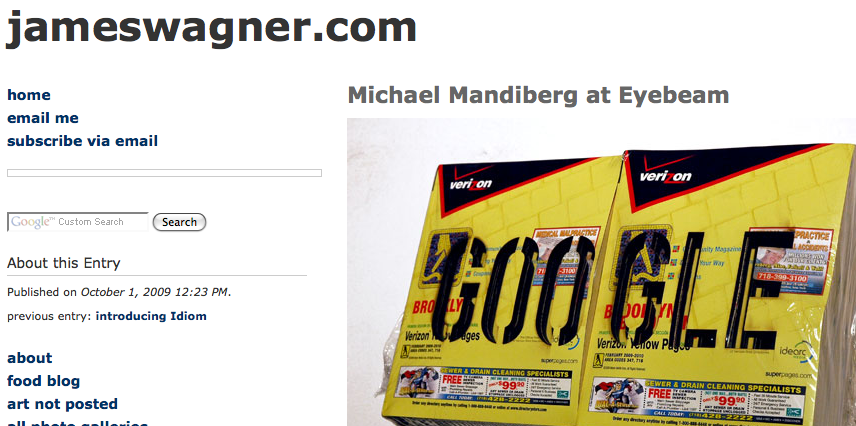 James Wagner and Barry Hoggard came to see my installation last Monday. James has written up his impressions. James says:
Mandiberg goes where no laser cutter has ever gone before. Some of the work physically and dramatically distinguishes important newly-established contemporary technologies from their aging or defunct antecedents (many of which could once have been described as cutting edge themselves), The result is a visual dialogue charged with the passage of time and composed in the empty spaces we see "written" in and on various kinds of reference books.

One piece, a work in progress (surprisingly, lasers take their time), is titled "We have never had a year of peace". When finished it will comprise the three volumes of the "Encyclopedia of the Third World", lying on their spines next to each other, open at a random page in the middle where the artist has deeply burned the name and year of every war fought by this peace-loving republic since 1890.

Another body of work consists of a wall display of cast-off volumes describing how to make money. Mandiberg has "whittled" with a laser into their hard front covers to describe the logos of, according to the artist, "all of the failed banks of the Great Recession".

Not directly related to the re-worked dictionaries, encyclopedias, phone directories, or investment monographs are some breathtaking laser-cut drawings of the security patterns ordinarily found printed inside those familiar small mailing envelopes used by banks and similar institutions.
More here (tx James!)